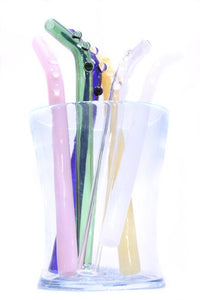 ASP & Hand
Shiva Straw
Regular price
$20.00
$0.00
by ASP & Hand
Our SHIVA STRAW is a versatile size (tall, grande, etc) and the perfect mix of elegance and fun. Slightly wider than our LAST STRAW, the SHIVA gets more drink to you faster. We love it by the bedside for easy sips whilst luxuriating or reading (please don't sit ALL the way up - it's just too much sometimes. We know you feel us on this!).
8 1/2 inches long and 12mm diameter
Handmade in the Pacific Northwest; each piece varies subtly in color and form. 
CARE: Our straws are made in Borosilicate (Pyrex), or "hard glass," which means they are dishwasher-safe and safe for use with hot and cold beverages. Though more durable than normal "soft glass," Boro is still breakable and should be handled with care.
---
Share this Product