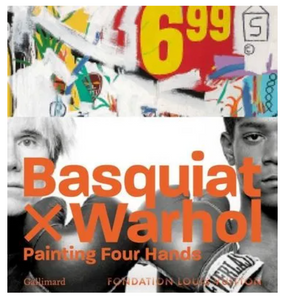 Gallimard
Basquiat x Warhol: Paintings 4 Hands
Regular price
$70.00
$0.00
• Published to accompany an exhibition at Fondation Louis Vuitton from 5 April to 28 August 2023
• The collaboration between the two artists, legends of the New York avant-garde, through more than a hundred of their joint worksIn the spring of 2023, Fondation Louis Vuitton will be holding Basquiat x Warhol… Painting 4 hands, the most important exhibition ever devoted to the collaborative work of these two artists. The exhibition will feature more than 100 jointly signed paintings, in addition to individual works by Basquiat and Warhol, and works by other major artists (Keith Haring, Jenny Holzer, Kenny Scharf, etc.) in order to recreate the New York downtown art scene of the 1980s.From 1984 to 1985, Jean-Michel Basquiat (1960–1988) and Andy Warhol (1928–1987) jointly produced about 160 paintings, some of the largest in their respective careers. A genuine artistic dialogue of style and form had developed between them that dealt equally well with crucial issues such as the integration of the African-American community into the narrative of North America, a continent where Warhol was a major manufacturer of icons.
---
Share this Product
Excellent service, superb show.
The 4 hands book is a great accompaniment to this show. The photos are sharp and detailed the text informative. The process form ordering to fulfillment went smoothly.