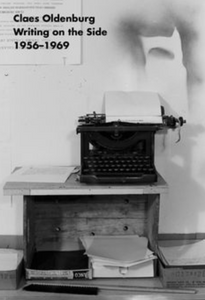 D.A.P. ArtBooks
Claes Oldenburg: Writing on the Side 1956-1969
Regular price
$31.96
Sale price
$39.95
Published by The Museum of Modern Art
Edited by Achim Hochdörfer, Maartje Oldenburg, and Barbara Schröder
Paperback
Considered a central figure of Pop, installation art, and Happenings, Claes Oldenburg redefined existing notions of art in the 1960s with his landmark environments "The Street" and "The Store," his soft sculptures and his proposals for monuments. Since his arrival in New York in 1956, Oldenburg's prolific production has always been accompanied by a daily practice of writing that reveals the conceptual complexity and diversity of his inventive oeuvre.

Comprising the artist's key writings from the late 1950s and 1960s, this volume makes available a wealth of previously unpublished material, including sections of the diary Oldenburg kept during these formative years, his notes (written on an old typewriter in his studio while standing), facsimiles of sketches that show his abiding interest in the relationship between image and language, plus statements, essays, scripts for Happenings and poems. In diverse styles, vivid descriptions of his environment alternate with intimate confessions, humorous anecdotes, psychological observations and self-analysis, characterizations of the art world and its protagonists, and recurring inquests into his own motivations.

This compilation, the first to be dedicated entirely to Oldenburg's writings, shows an artist who is not only resolute, informed, and programmatic--deeply concerned with the art and society of his time--but also witty and playful in his confrontation with his own contradictions and ambiguities. The book provides a unique window into the formation and evolution of one of the most influential and ground- breaking contemporary artists, and a lively personal account of the 1960s.

Born in Stockholm, Sweden, in 1929, Claes Oldenburg grew up in Chicago and graduated from Yale University in 1950. After studying at the Art Institute of Chicago, he settled permanently in New York City in 1956. Oldenburg established himself in the early 1960s with a series of installations and performances, among them "The Street" (1960), "The Store" (1961) and "The Ray Gun Theater" (1962). At the end of the decade, Oldenburg began to fabricate works on a large scale, beginning with "Lipstick (Ascending) on Caterpillar Tracks" (1969), which was followed by other works such as "Geometric Mouse" (1969) and "Giant Ice Bag" (1970). His first architecturally scaled sculpture, the 45-foot-high "Clothespin," was installed in downtown Philadelphia in 1976. Soon thereafter, he began working with Coosje van Bruggen, whom he married in 1977. Together they went on to realize 44 site-specific sculptures for cities in the United States, Europe, Japan and Korea.
---
Share this Product