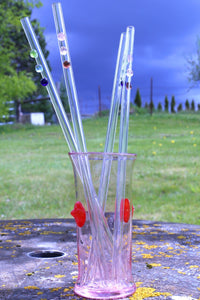 ASP & Hand
Papagena Straw
Regular price
$30.00
$0.00
by ASP & Hand
For those of you out there who love venti drinks, big gulps, BOBA TEA or just want to inhale that beverage without disturbing your lip color, we highly recommend! Each is decorated with three nubs on a clear color.
10 1/2 inches long and 5/8 inch diameter (straight)
Handmade in the Pacific Northwest; each piece varies subtly in color and form. 
CARE: Our straws are made in Borosilicate (Pyrex), or "hard glass," which means they are dishwasher-safe and safe for use with hot and cold beverages. Though more durable than normal "soft glass," Boro is still breakable and should be handled with care.
---
Share this Product